Thank you for taking the time to visit and filling out our reservation form, or simply contacting us.
Local business you may visit while your in Austin or San Antonio.
Flying J Ranch
For close to 40 years now people have been enjoying the nostalgic Great American Cowboy. What an experience to eat chuck wagon cooking while listening to good old western music.
A wonderful family friendly experience you will never forget!
Flying J Ranch also provides wedding venues. A unique venue for country western, or simply beautiful scenic landscape.
Interested in learning more about Wedding Venues? ETI Limousine $ Charter provides FREE travel consultation. Ask about our Rolls Royce and other luxury automobiles for your travels.
---
Need Help With Computers?
Let Dr. at technodoctorsa.com take a look and see what he prescribes. Neal Shaver provides quality IT services with affordable rates.
From small business to large scale corporations, the Dr. has serviced them all. From networking to systems administrator, tehcnodoctorsa handles all your IT needs.
Looking for an affordable new or refurbished computer? Neal can provide you proper consultation before you spend on hardware or software that is not necessary.
---
The Best Custom Designed Jewelry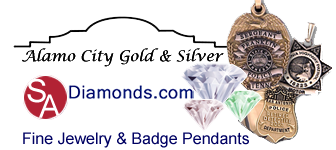 Are you looking for a charm, cuff links, pendant, tie tack, money clips, or other fine jewelry? Alamo City Gold & Silver provides quality fine jewelry at affordable rates.
With the best prices on diamonds and stones, SADiamonds.com provides all types and styles of diamonds.
Looking for law enforcement badge pendants?
Alamo City Gold & Silver specializes in custom design badge jewelry for law enforcement, firefighters and first responders.